We're a cosmetic and general dentistry practice in beautiful South Tampa
At our practice located in South Tampa, we specialize in cosmetic dentistry, whitening procedures, TMJ disorder and treatment, Invisalign clear braces and general family dentistry. We treat individuals of all ages with compassion, while also arming them with the right tools to keep their teeth in top condition.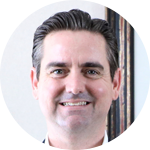 Dr. Michael Gribbin has been practicing general and cosmetic dentistry in the Tampa Bay area for over 10 years. He received his Bachelor's of Science, Masters of Science and Doctorate of Medical Dentistry from the University of Florida.
"Restoring a patient's smile and confidence is the best part of my job."

– Michael Gribbin, DMD
Discover the wide range of dental services we provide our patients from our office, centrally located in South Tampa.
General Dentistry Services
Teeth polishing
Updating dental radiographs (x-rays)
Taking dental impressions
Fluoride treatments
Oral cancer screening
Comprehensive dental examination of tooth decay, existing restorations and gum disease
Examination of dental radiographs (x-rays)
Cosmetic and Restorative Dentistry
Composite fillings
Porcelain Caps
Porcelain Bridges
Replacement of missing or broken teeth
Dentures
Composite fillings (to close space between teeth)
ZOOM® Teeth Whitening
Custom whitening molds (trays)
Invisalign® Specialist in South Tampa
Invisalign® takes a modern approach to straightening teeth, using a custom-made series of aligners created for you and only you.  The aligners will gradually and gently shift your teeth into place based on the exact movements your dentist plans out for you.
Periodontal Treatments
Gum disease risk assessment
Gum disease maintenance and treatment options
TMJ Treatment in South Tampa
Creation of custom nightguard
Treatment for bruxing (grinding and clenching)
Treatment for worn teeth
Oral Health Products
Flouride
Sonicare toothbrushes
Request an Appointment
To get started on the road to better oral health for you or your family, reach out to us today to schedule an appointment by calling us at 813.872.9220 or by clicking here.
We can't wait to help brighten your smile : )
Schedule An Appointment